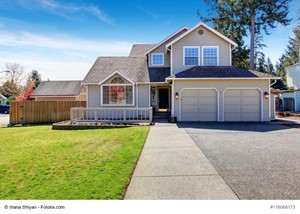 Is a two-car garage a luxury or an essential feature of a home? While it may not always be a top priority for first-time buyers, many seasoned homeowners consider it a "must have" item. In a lot of cases, it all boils down to expectations and what people have grown accustomed to.
Climate also plays a key role in how important a two-car garage is to you and your family. However, even if your winters are mild and your snowfall amounts are slim to nil, there are other weather conditions that a garage can shield you (and your cars) from.
Being able to park your vehicles in a protected, enclosed area is especially welcome when you have an armful of groceries, inclement weather outside, small children in tow, or an elderly parent to care for. Once you start adding up the advantages of having a two-car garage, it makes you wonder how you ever got along without one!
Crime deterrent:

Valuable storage space:

Protection From The Elements:

Privacy:
Whether or not a 2-car garage is a "must-have" for your next home depends on your climate, your neighborhood, and what you've grown accustomed to. For some people, a one-car garage may suit their needs just fine -- especially if they only own one vehicle and have all their yard maintenance taken care of by an HOA.